Behold! You are entering the real world of Spanking VR with genuine spankees and submissives ready at your beg and call. Do they need punishment or pleasure?
When I'm a bad girl, I get a spanking. Sometimes I get spanked bare bottom, over the knee. Or I may have to grab on to the chair arms and be paddled.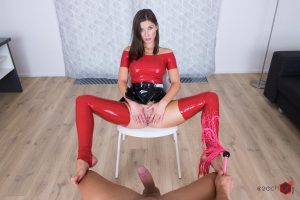 Other times I have to bend over the sofa for the tawse or cane.
When I am caught smoking I get the belt. And after every time I am punished I have to stand in the corner. My name is Jennifer Jane, I come from the Czech Republic and am 22 years old. I am a real girl. And I get real spankings. Do you want to join in and spank me?
Have we caught your attention yet?
Make Jennifer Jane your very own spankee in real virtual reality spanking video shows with you in the director's seat deciding on the punishment for your gorgeous slave. Jennifer Jane is there dressed in sexy red latex, awaiting what punishment you decide for your slave. Is she going over the knee or having to endure an erotic spanking with the paddle or whip? It is all up to you!
Spanking VR is a real rarity still. But here we have found a precious gem. You influence the storyline as it plays out with your submissive of choice. Jennifer Jane and many other beautiful babes are already waiting for you to engage them in erotic spanking action, a firm whipping or some fetish sex to finish off a great session. Get inside a spanking film and play your part.
Czech spanking is a legendary genre. It does not have to brutal and bruising though. Here instead you get excellently glamorous girls with a kinky streak inviting you for erotic spanking experiences and hardcore sex shows in fetish gear. What is not to like?