I am Lady Monique of Paris. A pratique BDSM expert residing in the French capital. I know all the classiest restaurants, hotels and clubs of Paris. I am happy to take you sightseeing during the day and punish you at night. My fully equipped dungeon is located at the center of Paris.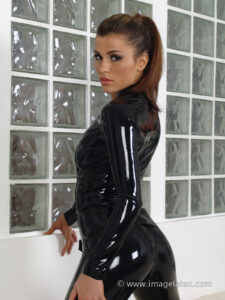 I love spanking my slaves. As a lifestyle switch for several years, I have blossomed into a true Sadist that finds great pleasure in being in control and at loss of control.
While under My control, you will surrender your mind to Me. I control your thoughts, your movements, and expect proper servitude. Knowing that your place is below Me will earn My attention. What keeps My attention is appropriate servitude and respect. Can you handle Me? I will test you and take you further than you think you can handle.
I will not massage you, kiss you or let you touch Me in ANY way that is inappropriate for a Mistress. I will not date you, be your escort or "special provider". Get it through your heads that I am here to control you, not to give you what you will NEVER deserve.
Lady Monique Facts
Hair Color/Length: Black/Long
Eye Color: Dark Brown
Height: 5'6
Figure: Busty
Lady Monique Interests
OTK Spanking
Paddling
Cropping
Flogging
Human ashtray
Mind Control
Foot Worship(clean and dirty)
Stocking Fetish (cuban, thigh high, pantyhose)
Rubber
Forced Feminization/Sissification
Humiliation (verbal, public)
Blindfolding
Breath Control
Gas Masks
Tease and Denial
Tickle Fetish
CBT/CBB
Electrical Play
Hair Pulling
Nipple Torture
Ice/Wax
Mummification
Sensory Deprivation
Needle Play
Medical Play (invasive medical, enema)
Golden Showers and Cocktails